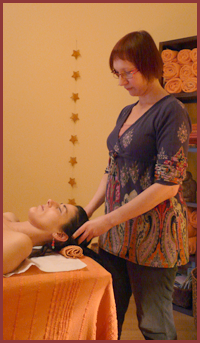 At the age of 18, very unsure about the direction my life should take, I opted for starting a Licence in Business Management. After that I worked for about 8 years first in exports and then mainly in hotels. I spent 4 years in Ibiza but I never felt I was in the right kind of job.
In Ibiza my inner quest was boosted by people I met, books I read, and also simply by the beautiful energy of the island. Almost without thinking, I left the island at the end 1998 to go to England and register for a 2-year-course in Holistic Therapies I had been told about. At that time, I never had received a massage myself, but intuitively that course seemed right for me. As well as massage, it involved foot reflexology and aromatherapy.
In 2001 I came back to Belgium due to family circumstances. Aspria was then in the process of opening its first Fitness Club in Brussels. Thanks to this happy synchronicity, I started as a freelance at the Oasis, their well-being centre. For over 3 years, a regular and international clientele made it clear to me that I had found the right professional path.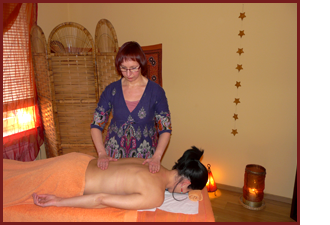 I then decided to step away from the too commercial dynamic of that sort of big centre. In 2003 I opened a practice place with an osteopath. At the end of 2007, I chose to work on my own with the idea of offering an exclusive and personalised touch.

This beautiful adventure implies, of course, a whole process of inner growth which continues nowadays. I had the chance to become familiar with different aspects of complementary therapies or self development techniques: either by learning or reading about them, or most frequently by simply experimenting them for myself. This fascinating range of tools is available for those who are willing to awaken to themselves: Bach Flower Remedies, reiki, kinesiology, karmic astrology etc

I am also very interested in the Mind-Body-Spirit connection (origin of diseases and their link with emotions) and happy to see that more and more people open up to a more holistic medicine. The awakening of consciousness is well underway…

The adventure is only beginning…

"Realize deeply that the present moment is all you ever have. Make the Now the primary focus of your life" Eckhart Tolle

My life now, is the result of a re-conversion, or rather an awakening to whom I really am.