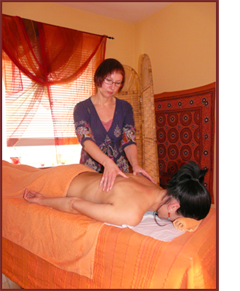 MASSAGE…
Massage is a world on its own… So many different techniques are available and each of us has to find the approach and touch suited to his needs. But not only does the technique matter. Building up a relationship of trust and confidence between receiver and practitioner is also a priority; taking the time before and after the massage to make my client comfortable and share a few words, is therefore essential to me.
No need to say that my massage is ethically professional and absolutely not sexually-orientated.
SWEDISH…
This classic oil massage was created by Swedish Per Henrik Ling, who made massage practice popular in the 19th century.
All muscles and joints of the body are treated to release tensions due to stress, bad posture, or emotions. Effleurage, petrissage, vibrations and percussions give Swedish massage a flowing rhythm whether slow or more tonic; it can be adjusted to how you feel to be lighter and relaxing, or energizing, deep and invigorating.
Moves are always from extremities to heart, to increase circulation and lymphatic drainage.
Massage brings harmony in both body and soul and has a significant effect to prevent the negative impact of stress on our metabolism. The benefits of massage are underlined in several scientific or medical studies.
AROMATHERAPY…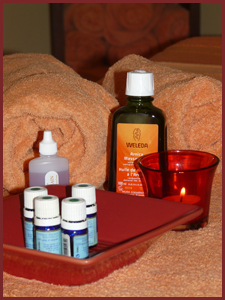 I usually massage with organic sesame oil, rich in vitamin E and anti-oxidizing. It is fluid and very nourishing for the skin. Argan and arnica oil are other options.
But adding an essential oil really enhances the experience; blended in the vegetable oil, it goes through the skin into the blood circulation for increased therapeutic effect; being surrounded by the scent of the essential oil also increases the pampering effect of your massage.
The essential oil is selected according to your mood and preference: to relax or energize, to boost immunity, to drain heavy legs, to ease a headache or pre-menstrual tension, to balance emotions etc
A world of scents is available to you: lavender, mandarin, bergamot, sweet orange, geranium, rose, jasmine, rosemary, eucalyptus, ravintsara …
More info on essential oils can be found on www.pranarom.be or www.bioflore.be, two very good brands of essential oils I use and recommend.
Many clients also appreciate the ready-made synergies called "Quantiques" from "Herbes et Traditions". They are intelligent perfumes aimed at balancing emotions through olfaction. I let you select intuitively ("trust your inner self") the one amongst the 20 bottles to be used for your massage; a short text corresponding to the synergy ( "Harmony", "Inspiration", "Patience" etc) will certainly enlighten the session.
30 minutes : 35 euros &nbsp &nbsp &nbsp &nbsp &nbsp &nbsp &nbsp &nbsp &nbsp &nbsp &nbsp &nbsp &nbsp 60 minutes : 60 euros
Your massage is really 30 or 60 minute-long.
Extra time is scheduled before and afterwards for your questions and to get ready.
A massage can be combined with a reflexology session (see "rates" section)
"Realize deeply that the present moment is all you ever have. Make the Now the primary focus of your life" Eckhart Tolle